At Mason Dental – Cosmetic & Family Dentistry, we are blessed to be able to serve our patients in the Grapevine, Southlake, and Keller areas. To show our love for our patients, our community, and the world, our team is committed to giving back and doing good any way that we can.
There is always something you can get involved with at our office that will make a difference to someone in need. Some of the charities we support include Smiles for Life and Toys for Tots. We also participate in Halloween candy buy backs every year.
Grapevine Shield Foundation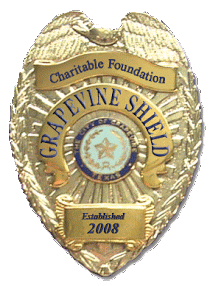 The Grapevine Shield Foundation of Grapevine, Texas, was established in 2008 to provide assistance to the family members of Police Officers and Firefighters from Grapevine who are injured or killed in the line of duty.
The Foundation provides a method for the community to provide security for the public servants who provide security for us every day. Citizens tend to take for granted that when they need help from the Police or Firemen of their community, they will be there; 24 hours a day, 7 days a week, 365 days a year.
These brave men and women are willing to put the safety of strangers ahead of their own safety. Traffic accidents, fires, burglaries, medical emergencies, whatever the need, when we call they are there for us.
The Foundation provides the ability for the community to be there for the Police Officers and Firefighter in their time of need.
Toys for Tots

Toys for Tots is a charity that provides toys for needy children around Christmas time. Participating in Toys for Tots is a great way to serve your community. If you have any toys you would like to donate, you can drop them off at our office in December. We are proud to support such a great charity, and to bring joy to more children every year.
To find out more about how you can participate in these great services and others, call us at our office.