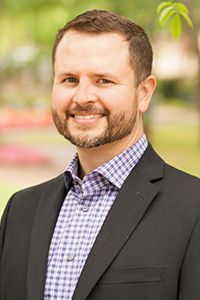 Dr. David White was born and raised in Brownwood, Texas. He graduated summa cum laude from Howard Payne University with a Bachelor of Arts in Biology. He received his Doctor of Dental Surgery Degree from Baylor College of Dentistry in 2005, and did training in IV conscious sedation from Albert Einstein College of Medicine in 2006.
Dr. White has been certified in intravenous conscious sedation since 2007. Dr. White has spent countless hours at continuing education on sedation and implant dentistry with a focus on immediate extraction and placement of implants. This approach allows patients to be fully restored in half the amount of time versus delayed placement of implants.
He also believes it gives the patient the best cosmetic result. He has successfully placed and restored over a thousand implants from single teeth to all on four full mouth prosthetics. He has been named Texas Monthly "SUPER DENTIST" from 2011 to 2015. His philosophy is begin with the end in mind…
Dr. White realizes that the dental chair is very intimidating to most people and he will go out of his way to make sure you have the best experience possible.