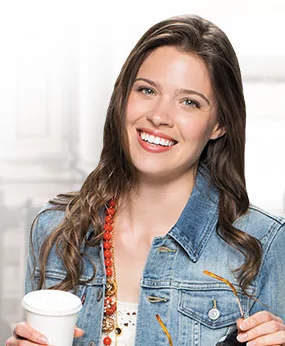 Invisalign Clear Braces in Grapevine, TX
Have your crooked teeth been keeping you from smiling and interacting with others? Now you can get the beautiful smile you've always wanted without all the clunky metal and wires of traditional braces. The Invisalign system can give you straight teeth using clear braces customized to adjust your teeth. Our dentist in Grapevine can fit you for Invisalign clear braces today! Also serving Southlake and Colleyville.
Benefits of Having Straight Teeth
Having straight teeth can do wonders for your confidence, but it can also provide important health benefits.
Healthier teeth: Bacteria and plaque are less likely to get trapped between straight teeth. Cavities are also easier to spot, treat, and prevent.
Healthier gums: Straight teeth are less likely to cause inflammation and irritation to your gums.
Easier cleaning: Bacteria on and between straight teeth can more easily be reached and eliminated with floss and a toothbrush.
Less tooth wear: Straight teeth and a healthy bite can prevent or lessen any grinding or rubbing.
Decreased risk of tooth injury: Teeth that are not jutting out irregularly are less likely to be hit or broken in an accident.
Improved image: Having straight teeth can get you smiling more and feeling happier.
Your overall health and mood can get a boost from achieving straight teeth!
Invisalign Versus Traditional Braces
The benefits of choosing Invisalign clear braces over traditional braces include:
More comfortable: Invisalign clear braces do not use any metal or wires that require tightening or can cut into the inside of your cheek.
Faster: Invisalign braces can straighten teeth more quickly and more efficiently than metal braces.
Not noticeable: Invisalign is named for its most notable feature: its invisibility! Invisalign braces are clear, so most people won't be able to tell you are wearing braces at all.
Removable: Invisalign braces can be taken out for eating and cleaning. You'll be able to eat whatever foods you'd like and brush your teeth normally without worrying about any metal brackets getting in the way.
Dr. Mason can consult with you and determine if Invisalign might be a good option for straightening your teeth.
How Does Invisalign Work?
Invisalign braces are clear aligners that gently press and push your teeth into new positions. When you come into our office to get your Invisalign braces, Dr. Mason will make an impression of your current teeth alignment and determine how the final straightened outcome will look.
Clear aligners will then be crafted just for you. The aligners are worn in a specific order, and when your teeth have completely adjusted to the fit of one aligner, you begin wearing the next one. This is repeated until your teeth are straight!
See how having straight teeth can raise your self-esteem. Call or visit us today to set up a consultation to get your Invisalign clear braces in Grapevine, TX. Also serving Colleyville and Southlake.