William Fiore, D.M.D.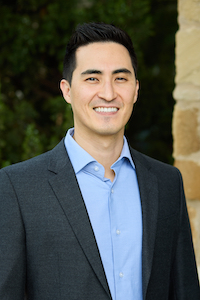 Dr. William Fiore is of Italian American and Korean descent and was born in Seoul, South Korea. As a young child, his family relocated to the United States, where he has lived in 6 different states. Dr. Fiore did his undergraduate education at Arizona State University (ASU) with a double major in biology and bioengineering.  He graduated summa cum laude from ASU and continued his postgraduate education at the prestigious University of Pennsylvania Dental School where he received his Doctor of Dental Medicine in 2010.  After dental school, he moved to Dallas, Texas where he met his wife, Dr. Connie Fiore. Together they have a beautiful baby girl that takes up most of their free time.
Dr. Fiore has completed a two-year fellowship program with the Academy of GP Orthodontic and has done over a hundred cases with metal braces and clear aligners.  In addition to normal dental procedures, Dr. Fiore also has extensive experience in laser dentistry, sedation dentistry, same day crowns with CAD/CAM technology and occlusal equilibration therapy.  Dr. Fiore is passionate about addressing functional malocclusion which is identifying, correcting and/or protecting a patient's functional bite to prevent rapid tooth destruction and TMJ disorders.  Dr. Fiore has received training in Botox therapy through courses and by his wife, a practicing dermatologist, to address bruxism, TMJ symptoms, tension headaches and cosmetic applications.  Dr. Fiore has personally found Botox therapy to be a helpful alternative adjunct for patients with severe grinding/clenching disorders that cannot tolerate traditional protective oral appliances.
Dr. William Fiore is a member of the Academy of General Dentistry, Academy of GP Orthodontics, ADA, UPenn Dental Fraternity, Pennsylvania Dental Study Club, Kentucty Dental Society, International Academy of Oral Medicine & Toxicology and The Institute of Functional Medicine.
  
In his free time, Dr. Fiore is a licensed Realtor and enjoys doing home renos and investing in the stock market.